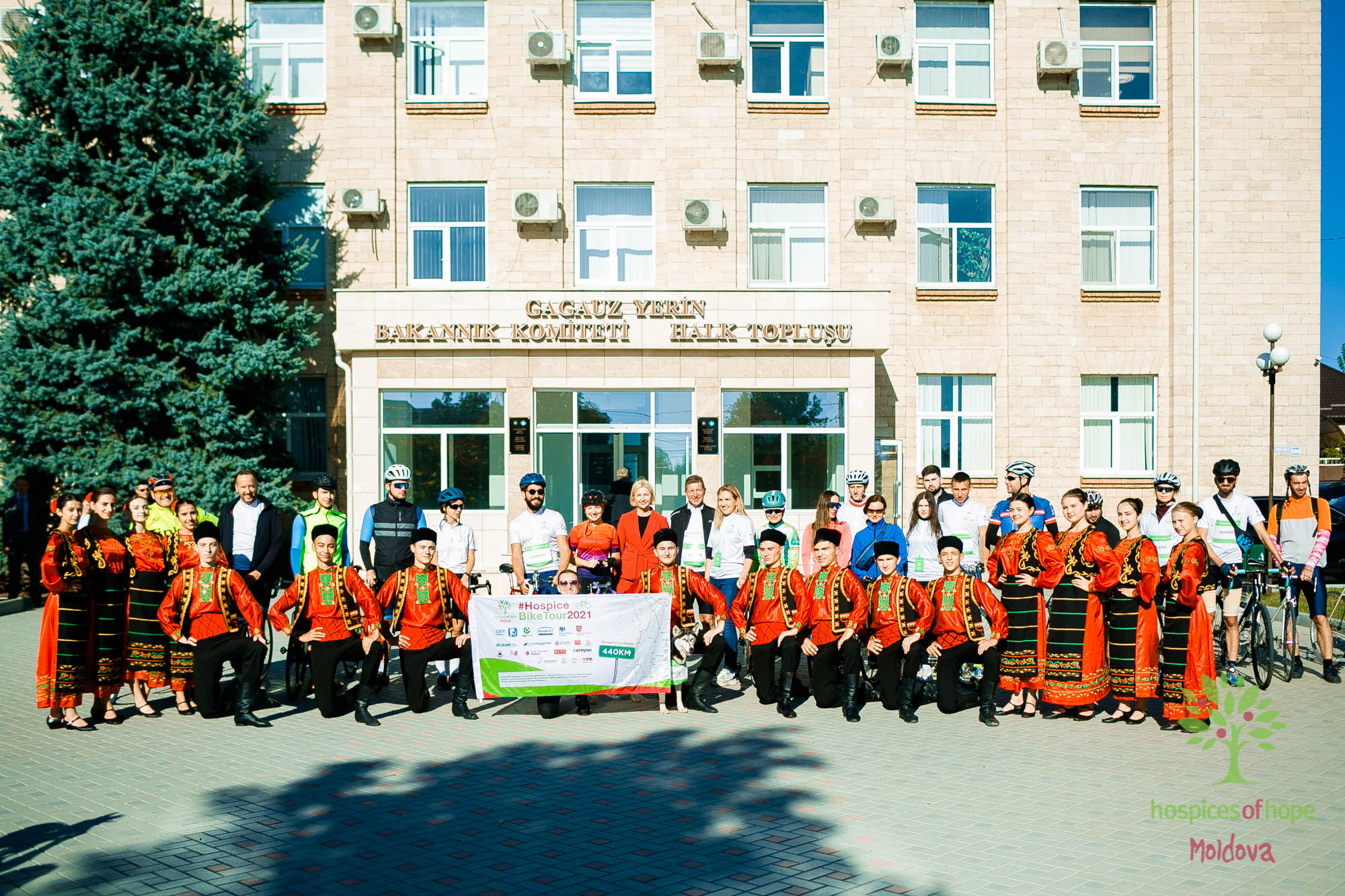 2 zile de #HospiceBiketour de succes
Continua traseul de ciclism caritabil Hospice Bike Tour 2021 organizat de Hospices of Hope Moldova cu scopul de a aduna fonduri pentru copiii și adulții aflați in stadiu de boala avansat.
Circa 30 participanți au pornit spre sudul țării pe biciclete, printre care și Ambasadorul Britanic la Chisinau, Steven Fisher a ciclat peste
100 km pentru a transmite un mesaj de încurajare beneficiarilor îngrijirilor paliative și pentru susținerea dezvoltării acestor servicii in Republica Moldova. "Simt ca aceasta experiența mi-a oferit șansa sa redescopăr Moldova si sa o valorific si mai mult. Este o experiența frumoasa pe care o continui alături de Hospices of Hope pentru dezvoltarea serviciilor gratuite de îngrijire paliativa din Republica Moldova." a menționat E.S. Steven Fisher.
La Comrat, cicliștii au fost întâmpinați de Guvernatoarea Găgăuziei, Irina Vlah care a încurajat si susținut traseul de ciclism caritabil. La fel de primitoare a fost si echipa îngrijirilor paliative din Taraclia, alături de autoritățile locale, care au întâmpinat sportivii cu gustări delicioase bulgărești si multă voie buna.
 "In 2 zile, am ciclat și am întâlnit oameni frumoși, curajoși și foarte primitori in Cimislia, Comrat, Taraclia, Cahul care au făcut aceasta aventura de ciclism inca și mai interesantă." a menționat Lara Moraru, director executiv Hospices of Hope Moldova.
Turneul continua pana la data de 5 septembrie in care sportivii vor atinge 440 km pe bicicleta in total. Susțineți acest traseu caritabil printr-o donație la Hospices of Hope Moldova, sprijiniți sportivii profesioniști si amatori din Republica Moldova.
Partenerii proiectului: SADE Moldova, OTP Bank, SlovakAid, Ambasada Britanică la Chișinău, Ambasada Lituaniei la Chișinău.
Sponsori de cicliști: CCI Moldova-Franța, Grawe Carat, Biorganic Raw Cafe, Gladei&Partners, KVG, GeoGalileo.
Parteneri secundari: Coca-Cola Moldova, AlfaLab, Kreyon, Neokinetica, TidBid, Crocus, Fruits and Berries, La plăcinte.
Partener general media TV8.
Contact: +373 79 266407 www.hospicesofhope.md