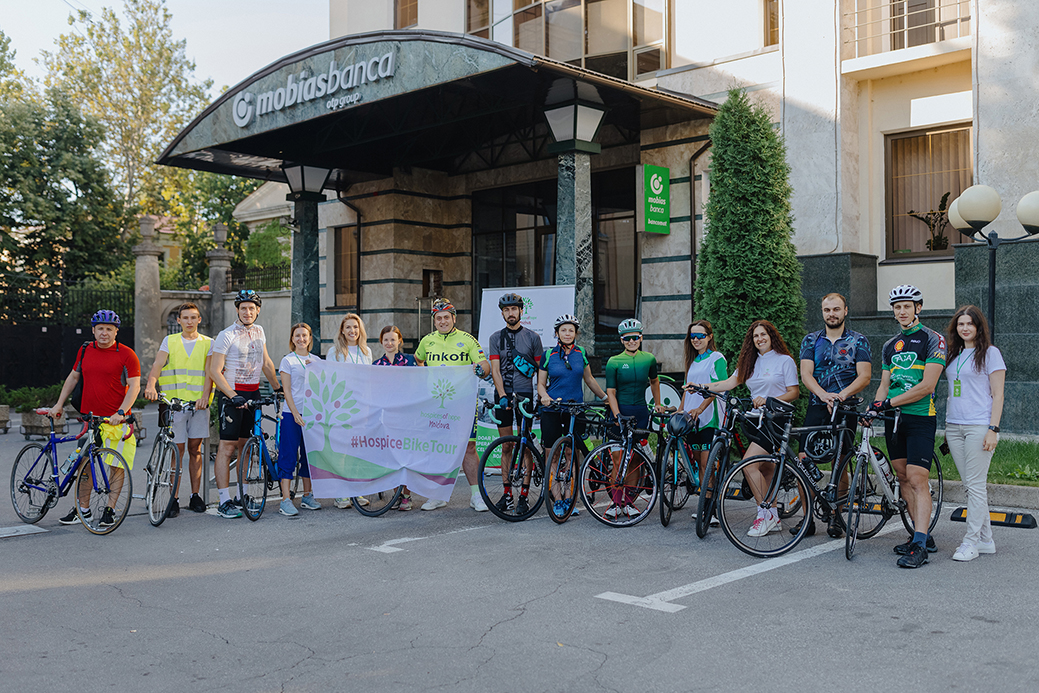 Today, August 14, 19 days before the charity cycling race, the last public training took place for the sixth edition of #HospiceBikeTour 2021, an annual sporting event that brings cyclists together for a noble cause.
At this training, amateur cyclists and professionals registered in the race, supporters of Hospices of Hope Moldova, traveled about 60 km from the headquarters of OTP Bank Moldova to the village of Bucovat and back. Those wishing to participate in the cycling race can still register for the route from September 2 to 5, 2021 and promote the development of free palliative care services for beneficiaries of the National Network "Hospices of Hope Moldova".
 "Each cyclist aims to collect about 500 euros for children and adults who are terminally ill and through such events we send a message of confidence to about 200 beneficiaries who are part of our network. Each of them deserves to live every moment without pain and with dignity" mentioned Lara Moraru, the executive director of Hospices of Hope Moldova.
The annual #HospiceBikeTour 2021 event could not take place without the dedicated sponsors who are with the organization and patients: "Training for the September race is part of my routine for the last 2 months or so. My family and colleagues support me, and here at Hospices of Hope Moldova we are all friends and we help each other. We are motivated by the charitable purpose of the race - raising funds for palliative care services, but also the passion for cycling "said Dumitru Guzun, participant from OTP Bank Moldova, which has been supporting the event for over 5 years.
Anthony Mauger, Executive Director of SADE Moldova, sponsor of the event and traditional supporter of Hospices of Hope Moldova for 9 years, said: "We are happy to participate in the Hospice Bike Tour since the first edition. We are proud of the fact that even with our involvement and the work of the teams in the national network, more patients can benefit from palliative care ".
Hospice Bike Tour 2021 will take place between September 2 and 5, 2021, where about 30 cyclists will cover 440 km to raise funds for seriously ill children and adults. The event aims to accumulate funds for the development of palliative care services and to continue providing these free services within the Hospices of Hope Moldova network in Orhei, Taraclia, Soroca, Cahul and Ocnita districts.
Partners of the project #HospiceBikeTour 2021: British Embassy in Chisinau, Slovak AID, SADE Moldova, OTP Group, Grawe, Biroganic, KVG, Gladei & Partners, CCI France - Moldova, Geo Galileo, Coca Cola, Alfa Diagnostic, Kreyon, Ministry of Internal Affairs, TV- 8, as well as anonymous donors.