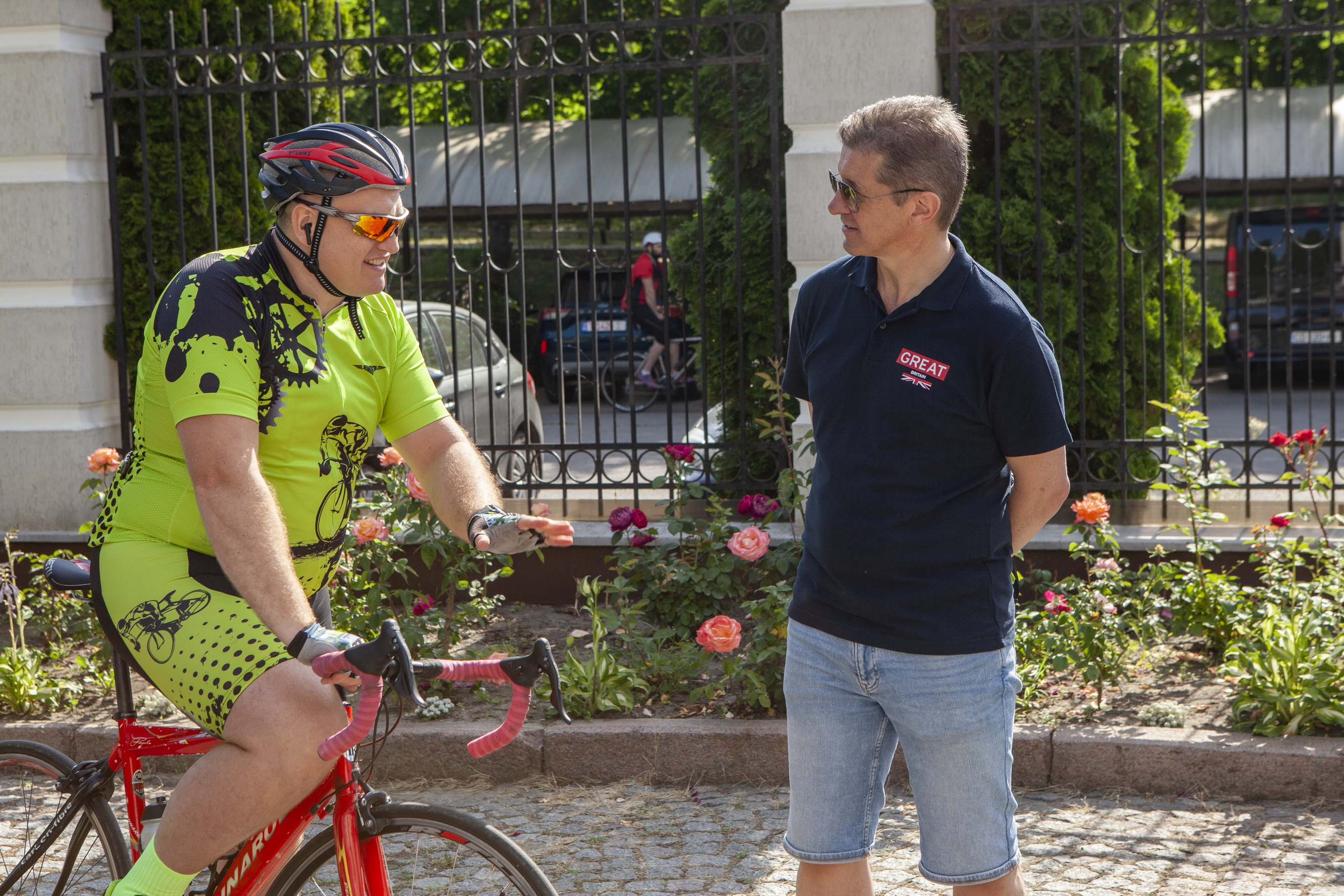 Today, June 4, the cyclists registered for the #HospiceBikeTour 2022 charity race training, cycling nearly 100 km. The event was attended by a diplomatic corps accredited in Moldova, sponsors, partners and friends of Hospices of Hope Moldova. #HospiceBikeTour 2022 is an annual charity event that brings together cyclists from the country and abroad with a common goal - to develop and strengthen palliative care services in the country.
Cyclists cycled 100 km from the Ukrainian Embassy in Chisinau to the Orhei Day Care Center for Palliative Care "Wings of Hope," which will open on June 7, 2022, and includes both services for ill patients in Orhei and for refugees from Ukraine who may seek medical help and psychological  The Wings of Hope in Orhei is represented by Victoria Tintiuc, director and chief physician of this organisation. counselling. The project is developed and funded by Hospices of Hope Moldova and implemented by A.O.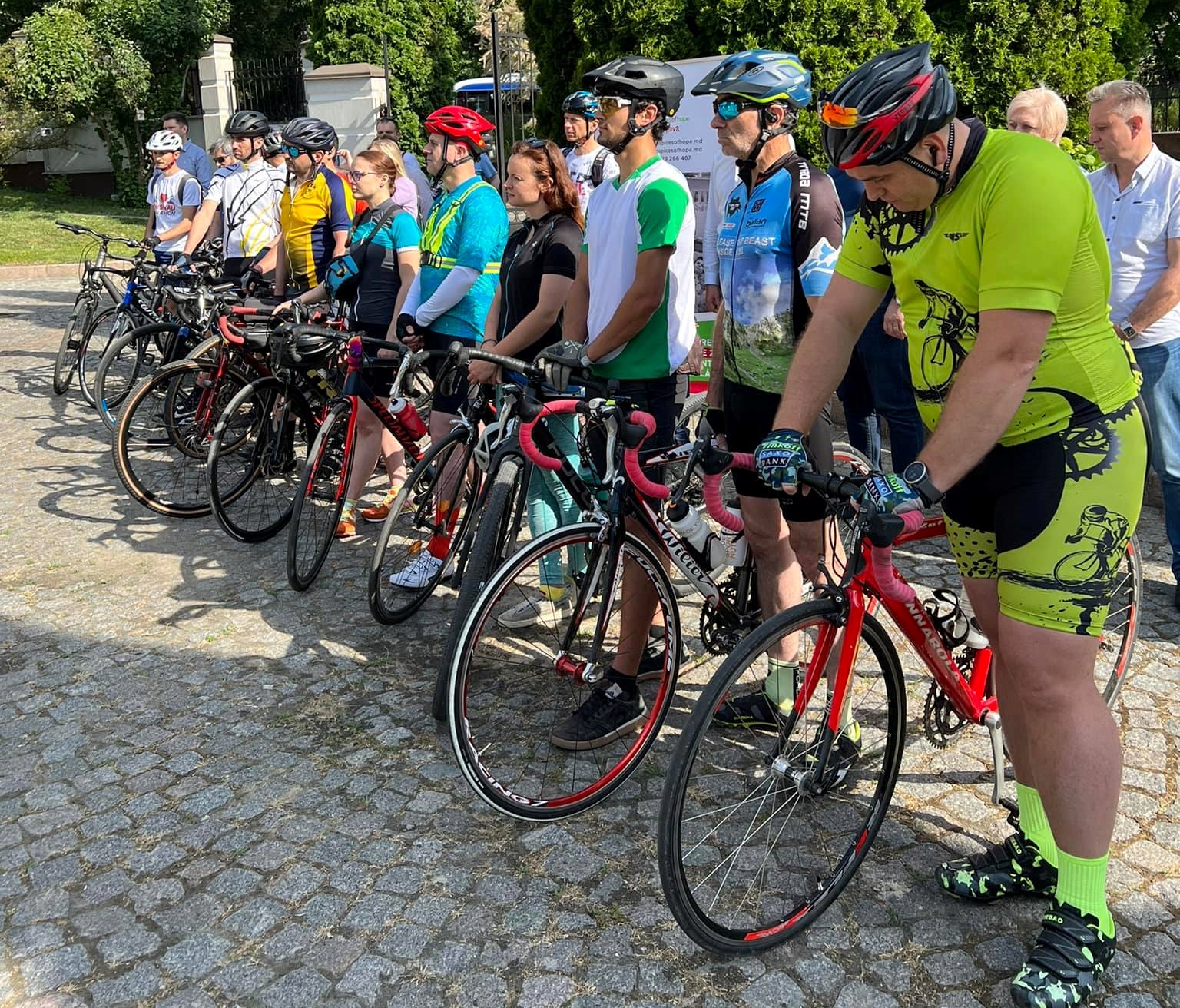 On May 7, Hospices of Hope Moldova presented the route for the 7th edition of the charity cycling event #HospiceBikeTour. The event brought together registered participants and cyclists interested in the bicycle charity race, sponsors, partners and representatives of the diplomatic corps.
The organizers presented the route and the agenda for the 4 days of cycling, as well as provided instructions on the possibilities of donation. The event partners offered masterclasses for participants, namely training recommendations, recovery exercises during and after the race, nutritionist recommendations.
The #HospiceBikeTour 2022 race will take place between June 23-26, where about 30 cyclists will pedal from Chisinau to Mangalia. This year each participant has 2 challenges, to cycle 500 km in 4 days, but also to collect 500 EUR through a personal fundraising campaign. The traditional race is dedicated to the beneficiaries of Hospices of Hope Moldova, the 200 incurable patients who benefit from free palliative care services. 
Lara Moraru, Executive Director of Hospices of Hope Moldova, said that this year the goal is to raise money for the Palliative Care Day Center in Orhei, which will provide various medical and psychological services as well as occupational therapies for the patients.  
The representative of the Embassy of Ukraine, Serhei Gumeniuc, welcomed the initiative of the organizers and expressed gratitude for the fact that the doors of the center will be open also for Ukrainian refugees. Donations can be made through the DONATE NOW button on the Hospices of Hope Moldova website.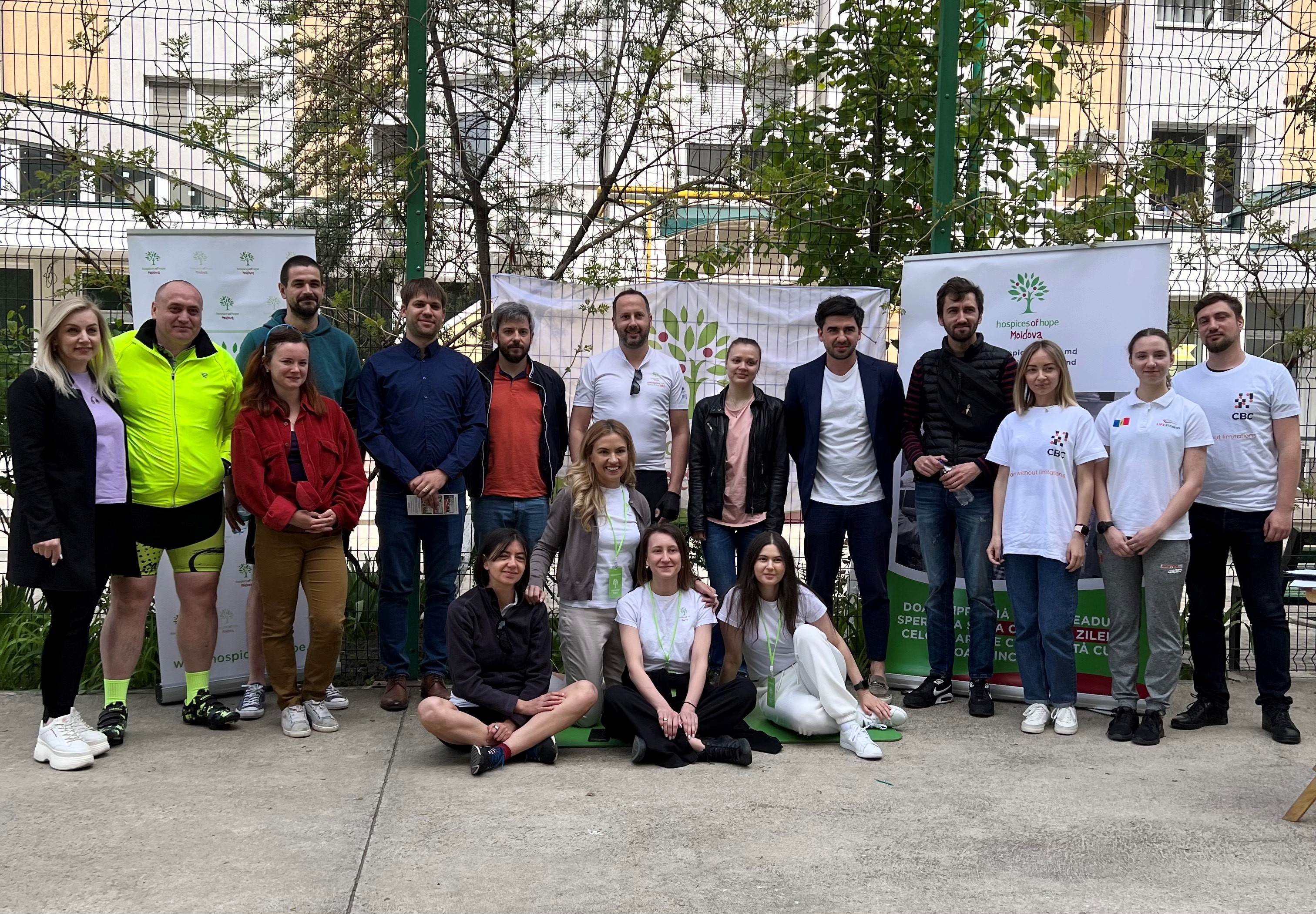 We thank the partners of this project: 
SILVER Partner: OTP bank
BRONZE Partner: SADE Moldova
Partners: British Embassy to Chisinau, Lithuanian Embassy to Chisinau
Sponsors: Franzetii, Grawe Carat, Geo Galileo, Biorganic, KVG, JVG, Code Factory, Albecar Prim, Gladei & Partners, Rumacom
In-kind partners: Daikiri Studio, Life Fitness, CBC Community Business Center, Coca Cola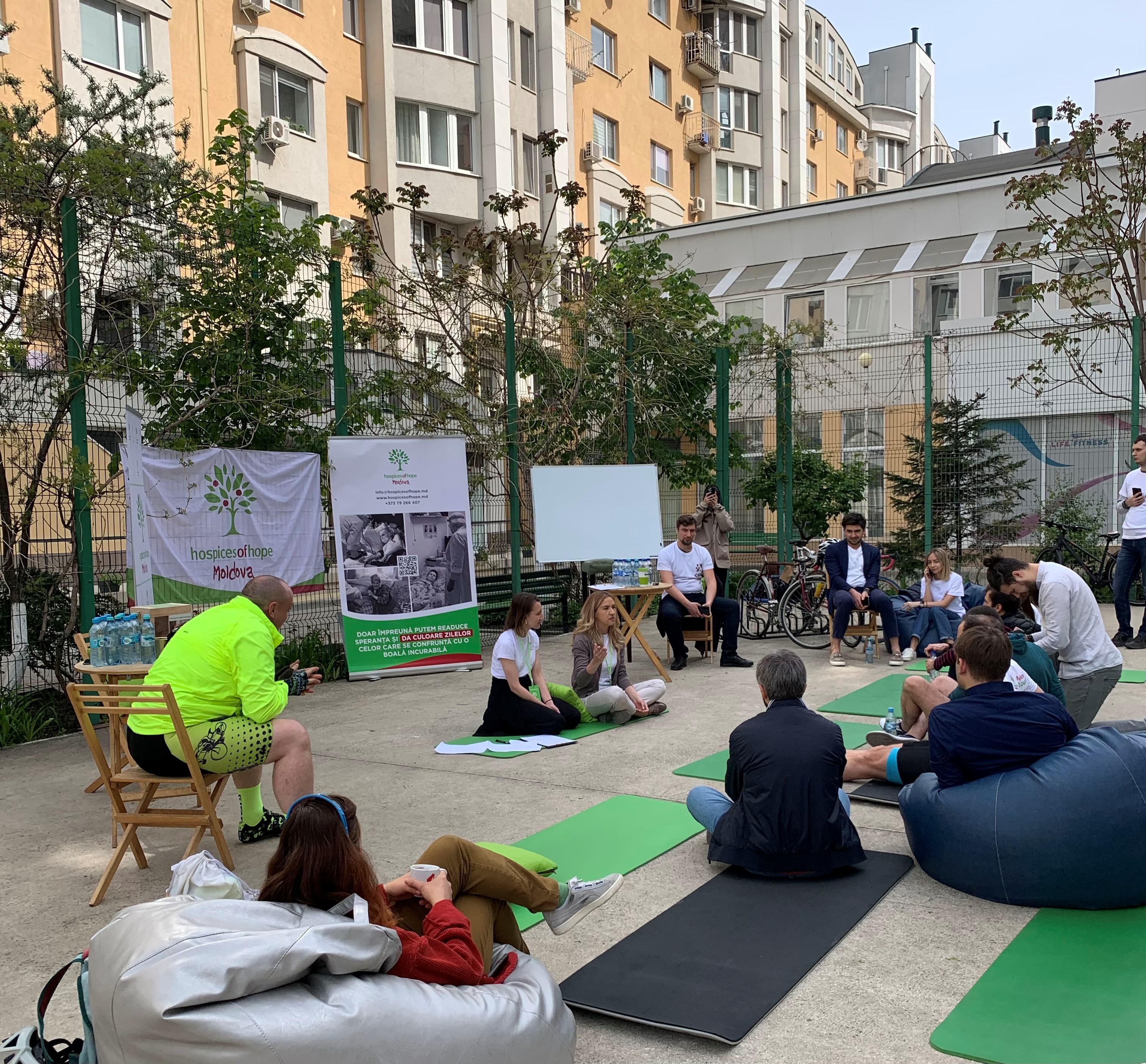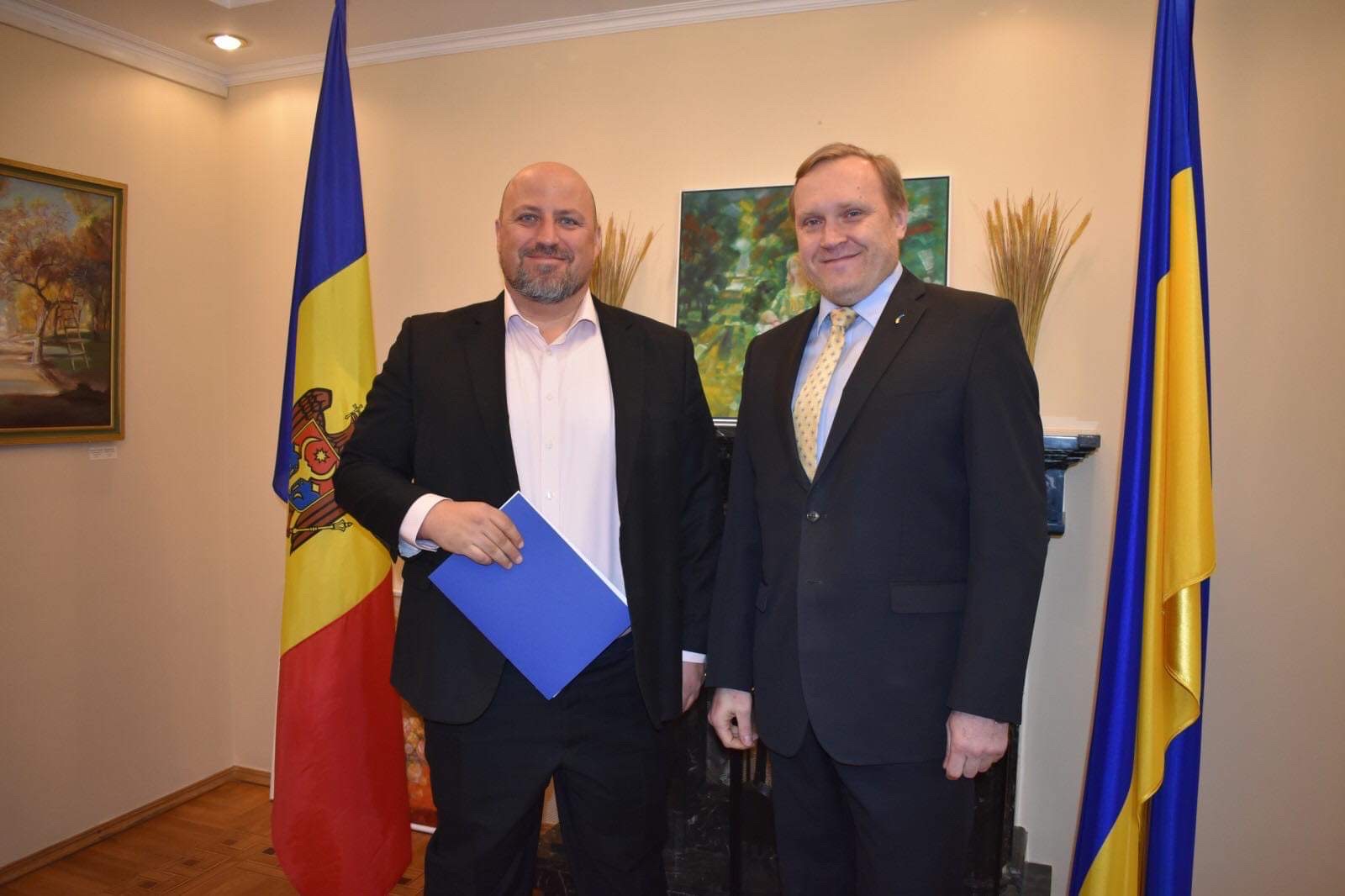 Hospices of Hope Moldova a ieșit din tiparele obișnuite și a lansat colectare de fonduri destinată poporului Ucrainean. Evenimentul de caritate organizat împreună cu Ambasada Ucrainei la Chișinău a avut loc în perioada 4 – 14 aprilie printr-o expoziție inedită de picturi a refugiaților și a artiștilor de origine ucraineană stabiliți la Chișinău, dar și o recepție cu genericul "For Ukraine – Charity Reception" organizată la data de 6 aprilie în incinta Muzeului Național de Istorie a Moldovei.
Evenimentul a adunat 18090 euro destinați pentru spitalul de copii din Kiev (10.000 euro), restul fondurilor fiind distribuite în susținerea refugiaților și artiștilor de origine ucraineană stabiliți în Republica Modova dar și pentru dezvoltarea Centrului de zi de îngrijire paliativă din orașul Orhei care va deschide ușile inclusiv pentru refugiații din Ucraina. Cheltuielile pentru acest eveniment au fost suportate integral de către Hospices of Hope Moldova.
"Publicul muzeului, în număr de peste 2000 de vizitatori, a admirat operele de artă și s-au delectat cu frumosul, care nu cunoaște hotare. Muzeul Național de Istorie a Moldovei este onorat să fie partener al evenimentului de caritate, astfel promovând pacea și solidaritatea cu poporul ucrainean" a menționat Livia Sîrbu, director adjunct pentru comunicare și relații cu publicul al Muzeului Național de Istorie a Moldovei.
Încheierea proiectului cu anunțarea rezultatelor a fost organizată la Ambasada Ucrainei la Chișinău unde s-au adunat atât organizatorii cât și partenerii evenimentului. E.S. Marko Shevchenko a mulțumit tuturor pentru contribuțiile și suportul oferit Ucrainei și a menționat destinația banilor colectați: "Din suma total colectată, 10 000 euro vor fi direcționați către cel mai mare spital din Kiev, Ohmatdyt, care este în strânsă legătură cu noi și are necesitate acum de restaurarea și reconstrucție echipamentului specializat distrus în timpul războiului".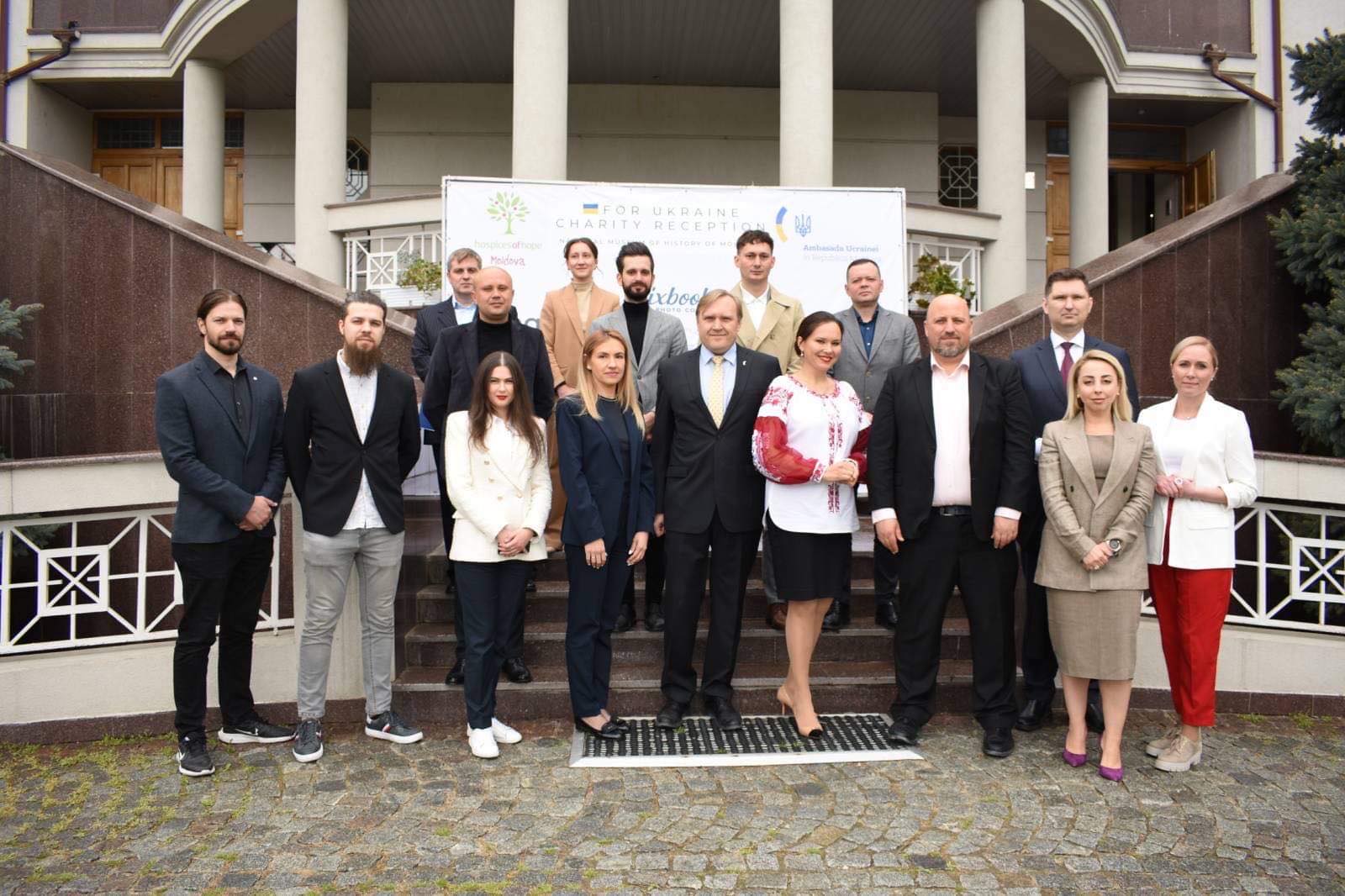 Organizatorul evenimentului, Hospices of Hope Moldova, este recunoscător tuturor partenerilor, prietenilor și susținătorilor acestui eveniment. Lara Moraru, Country Manager al Hospices of Hope Moldova a menționat importanța fiecărui partener în acest proiect și împreună cu E.S. Marko Shevchenko, au oferit scrisorile de mulțumire pentru parteneri. "Organizarea acestei acțiuni de caritate a fost o mare responsabilitate pentru organizația noastră întrucât a fost o situație excepțională și o decizie care trebuia luată rapid iar partenerii acestui eveniment și oamenii care au participat la licitație în timpul expoziției, ne-au demostrat că suntem o comunitate unită și suntem solidari. Continuăm dezvoltarea serviciilor de îngrijire paliativă în Republica Moldova și suntem deschiși la noi oportunități de colaborare pentru a ajuta poporul Ucrainean."
Proiectul "Pentru Ucraina" a fost lansat de Hospices of Hope Moldova și Ambasada Ucrainei la Chișinău pentru a colecta fonduri pentru cel mai mare spital de copii din Kiev dar și a oferi suport refugiaților care se află în Republia Moldova. Evenimentul a fost susținut de Președinta Republicii Moldova, Maia Sandu, care a participat la licitația de tablouri, a făcut o donație personală în cadrul evenimentului și a anunțat despre donația din partea Guvernului pentru Centrul de zi de îngrijire paliativă din Orhei care urmează a fi deschis până în iunie 2022. La fel, Prima Doamna a Ucrainei, Olena Zelenskaia, a transmis dedicate susținătorilor acestui proiect.
Partener general: Mixbook Moldova
Sponsori și susținători: MAIB, Moldindconbank, Sponsor anonim, Daikiri Studio, Cărturești de la Muzeu, Moldtelecom, Muzeul Național de Istorie a Moldovei, Uniunea Artiștilor Plastici Ucraineni în RM, Basavin Winery, Julius Meinl, Coca Cola HBC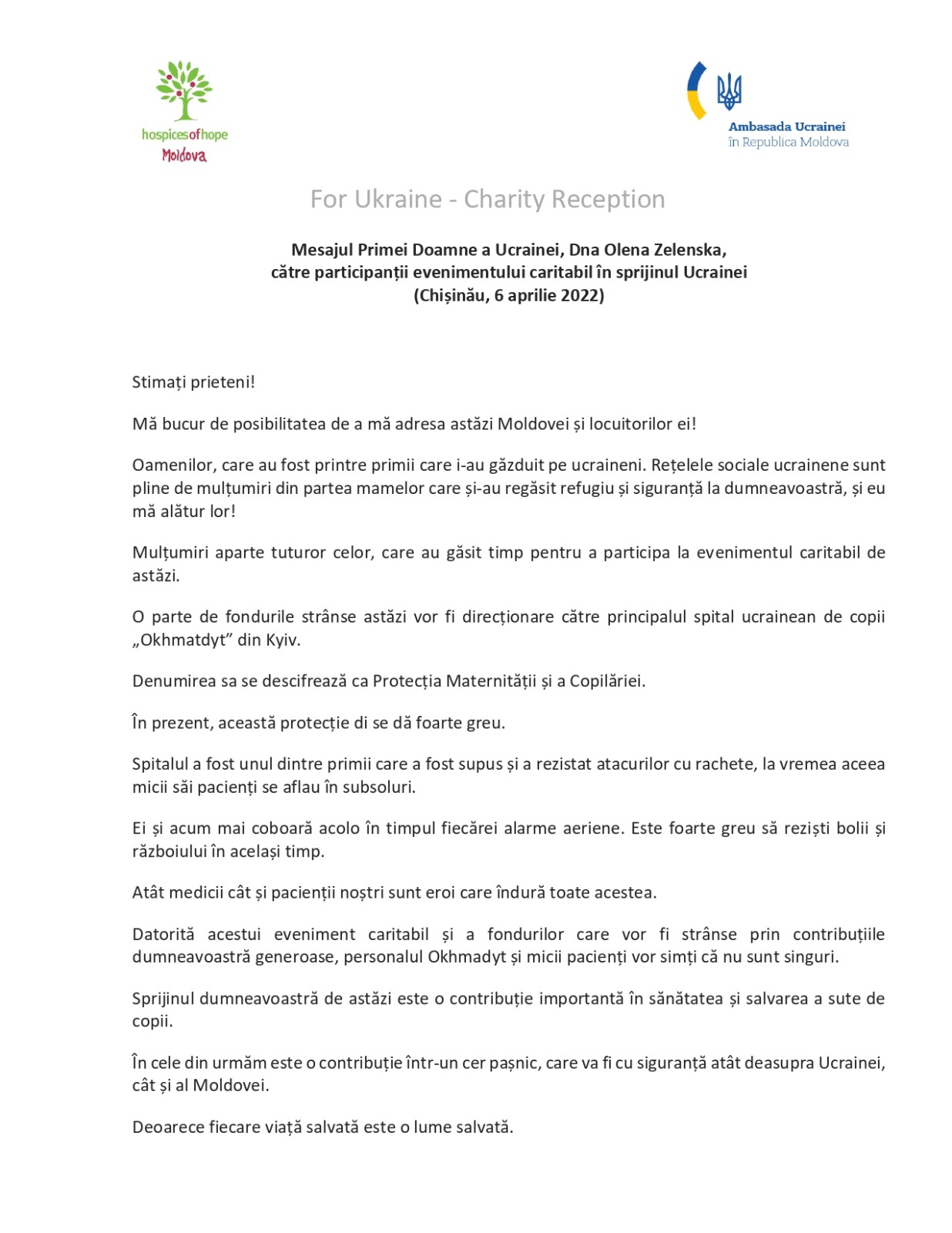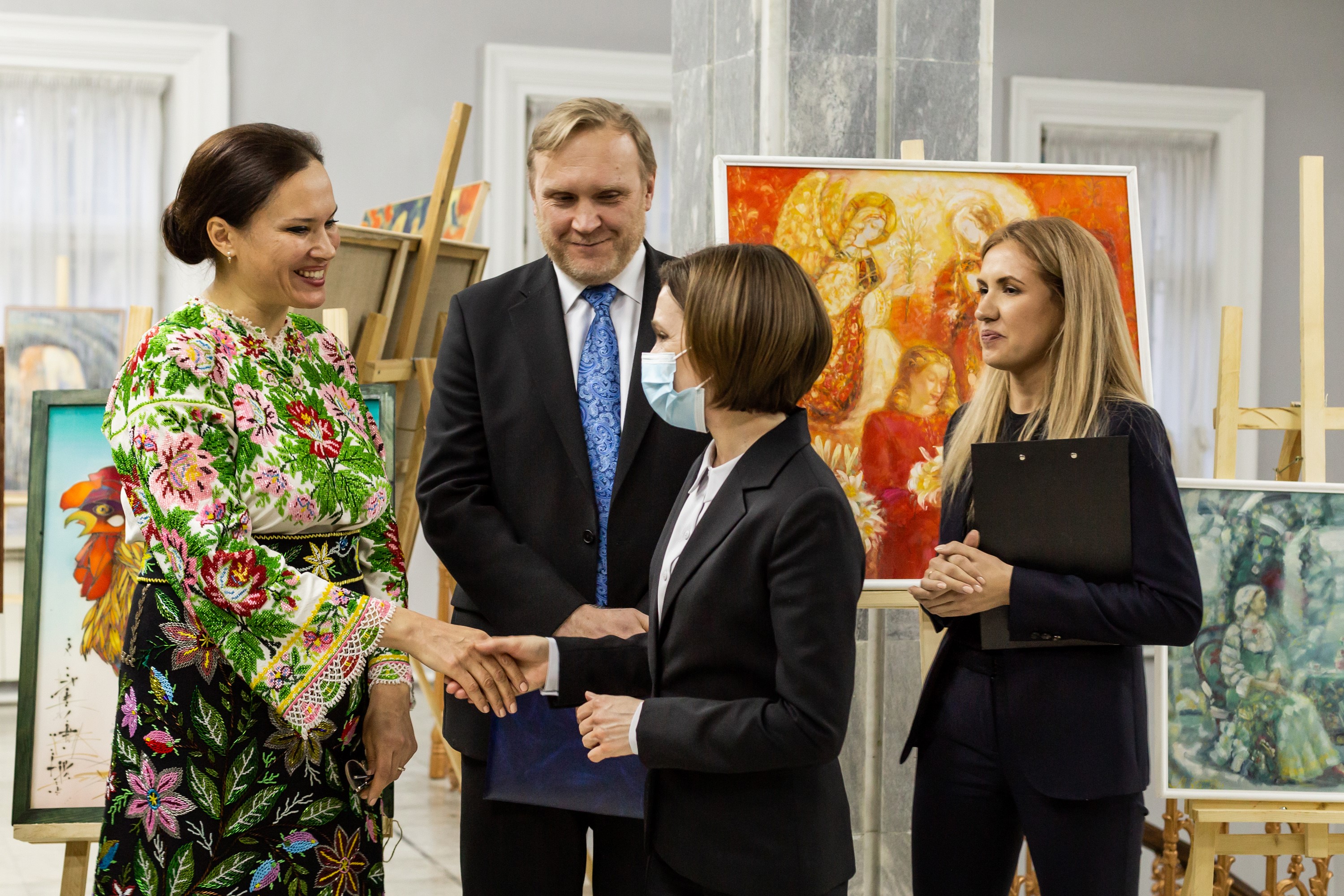 The Hospices of Hope together with the Embassy of Ukraine in Chisinau organized a charity reception "For Ukraine". The event took place on April 6th, at the National History Museum of Moldova, which gathered together high-level officials, ambassadors, businessmen and Ukrainian artists that are currently taking refuge in Moldova. The artistic program was offered by Mr. Igor Znatakov, Prime bandmaster at the Ukrainian musical - dramatic Theater from Odessa "Vasili Vasiliko", accompanied by his family. Igor Znatakov (saxophon) and Olesia Schevchenko (voice), the spouse of the Ambassador of Ukraine in Chisinau, who is also the President of International Women's Club Moldova. Their performances have impressed the audience through an extraordinary duet.
The Ambassador of Ukraine in Moldova, Marko Shevchenko expressed gratitude to the participants of the charity event
H.E. Marco Shevchenko: "We are grateful for all the support that you are currently offering to Ukraine. The situation in Ukraine is difficult, and today's action will help children in Ohmatdyt Hospital, where there are patients with severe illnesses from all over Ukraine, as well as refugees, but also to the Palliative Care Day Center in Orhei. Beauty will save the world".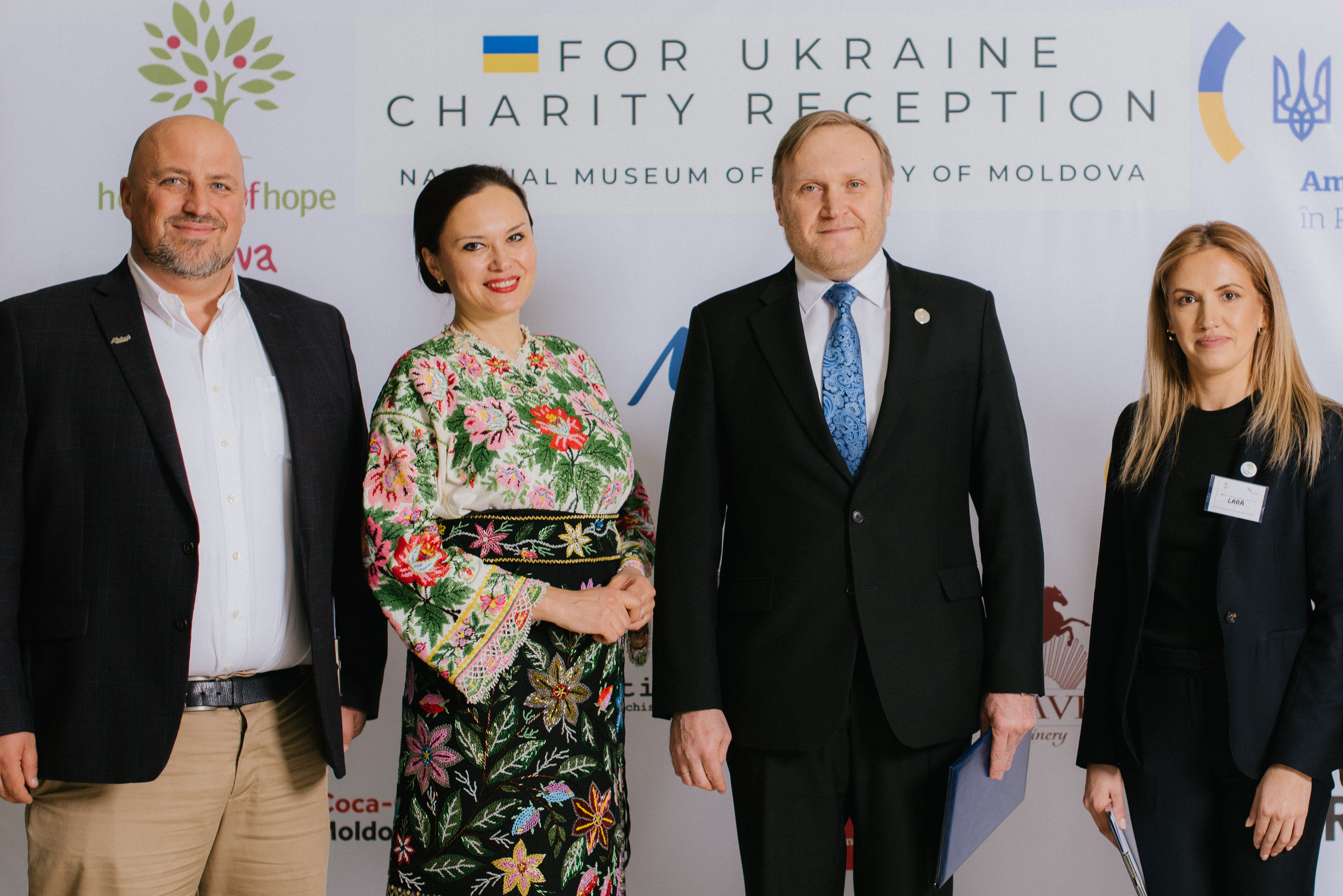 The funds were collected through the following: account of the host organization, "donate" button on the hospiceofhope.md website, silent and live auction during the event.
During the charity event there were collected 16.420 EUR, the funds will be distributed in the following manner: 1) 10.000 EUR – OHMATDYT Hospital in Kiev; 2) more than 3.140 EUR – will receive artists that are currently refugees in Moldova and artists that participated at the exhibition and event; 3) 3.280 EUR – Day Care Center for palliative assistance, which will be opened in May, and will offer free service including to Ukrainean refugees. The art works exhibition will conclude on April 14th, and on April 20th the final collected funds will be announced.
Donation announced by Maia Sandu, President of the Republic of Moldova
Among the donors at this event was the President of the Republic of Moldova, Maia Sandu, who also participated at the event and came with a message of support.
Maia Sandu: "For 6 weeks we have been living a bad dream that never ends. The Republic of Moldova from the first day of the military aggression condemned the war and called for peace. Since the begining the people of our country helped the refugees from Ukraine. Moldova has provided humanitarian aid to people who remain in Ukraine, but we must continue to help Moldovan refugees as well. We will make a donation of medical equipment from the Government of the Republic of Moldova to the Palliative Care Day Center in Orhei. We want peace so that we can develop our countries in democracy and prosperity. We will do everything we can to alleviate the plight of refugees in Ukraine."