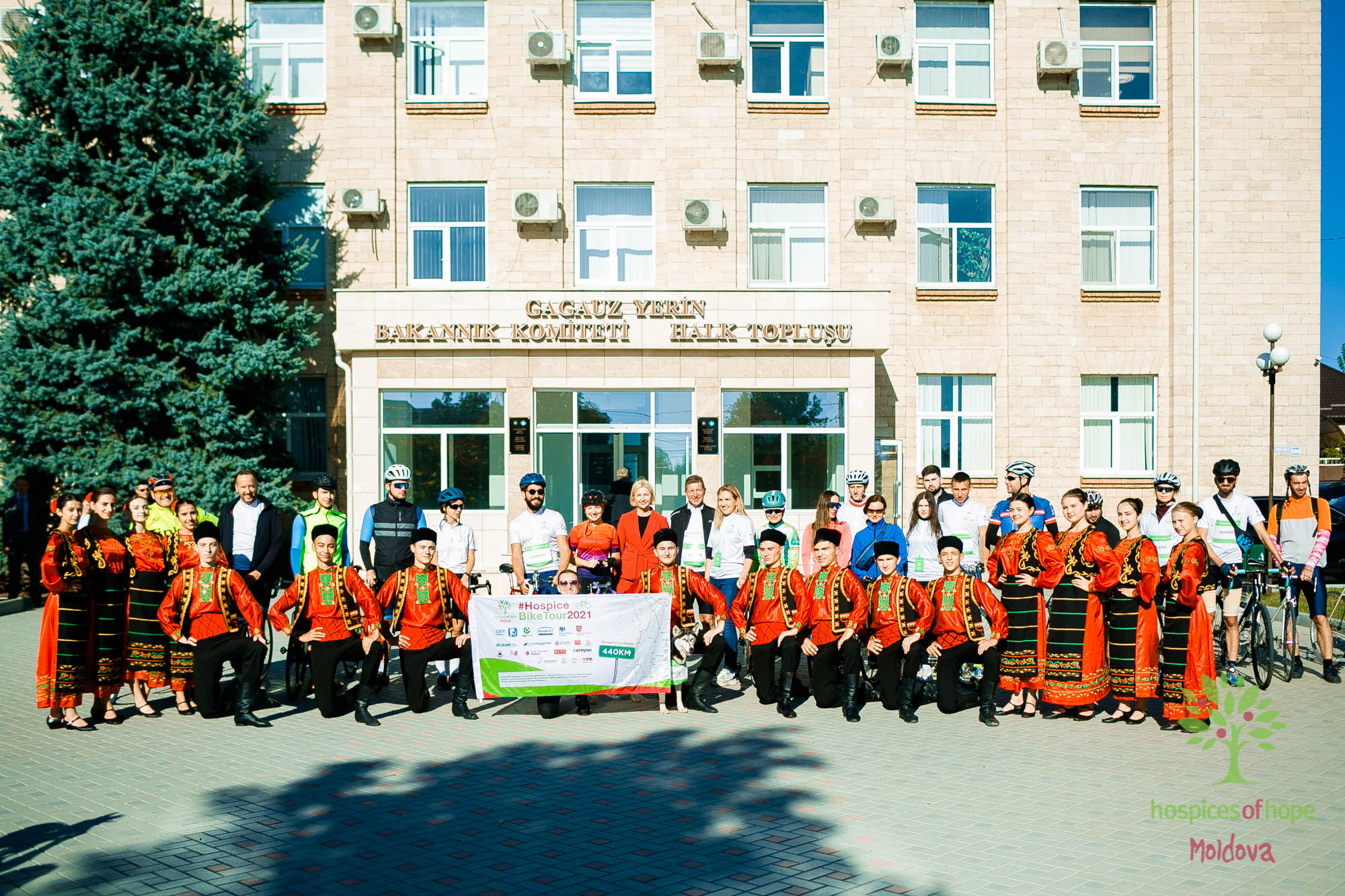 2 zile de #HospiceBiketour de succes
Continua traseul de ciclism caritabil Hospice Bike Tour 2021 organizat de Hospices of Hope Moldova cu scopul de a aduna fonduri pentru copiii și adulții aflați in stadiu de boala avansat.
Circa 30 participanți au pornit spre sudul țării pe biciclete, printre care și Ambasadorul Britanic la Chisinau, Steven Fisher a ciclat peste
100 km pentru a transmite un mesaj de încurajare beneficiarilor îngrijirilor paliative și pentru susținerea dezvoltării acestor servicii in Republica Moldova. "Simt ca aceasta experiența mi-a oferit șansa sa redescopăr Moldova si sa o valorific si mai mult. Este o experiența frumoasa pe care o continui alături de Hospices of Hope pentru dezvoltarea serviciilor gratuite de îngrijire paliativa din Republica Moldova." a menționat E.S. Steven Fisher.
La Comrat, cicliștii au fost întâmpinați de Guvernatoarea Găgăuziei, Irina Vlah care a încurajat si susținut traseul de ciclism caritabil. La fel de primitoare a fost si echipa îngrijirilor paliative din Taraclia, alături de autoritățile locale, care au întâmpinat sportivii cu gustări delicioase bulgărești si multă voie buna.
 "In 2 zile, am ciclat și am întâlnit oameni frumoși, curajoși și foarte primitori in Cimislia, Comrat, Taraclia, Cahul care au făcut aceasta aventura de ciclism inca și mai interesantă." a menționat Lara Moraru, director executiv Hospices of Hope Moldova.
Turneul continua pana la data de 5 septembrie in care sportivii vor atinge 440 km pe bicicleta in total. Susțineți acest traseu caritabil printr-o donație la Hospices of Hope Moldova, sprijiniți sportivii profesioniști si amatori din Republica Moldova.
Partenerii proiectului: SADE Moldova, OTP Bank, SlovakAid, Ambasada Britanică la Chișinău, Ambasada Lituaniei la Chișinău.
Sponsori de cicliști: CCI Moldova-Franța, Grawe Carat, Biorganic Raw Cafe, Gladei&Partners, KVG, GeoGalileo.
Parteneri secundari: Coca-Cola Moldova, AlfaLab, Kreyon, Neokinetica, TidBid, Crocus, Fruits and Berries, La plăcinte.
Partener general media TV8.
Contact: +373 79 266407 www.hospicesofhope.md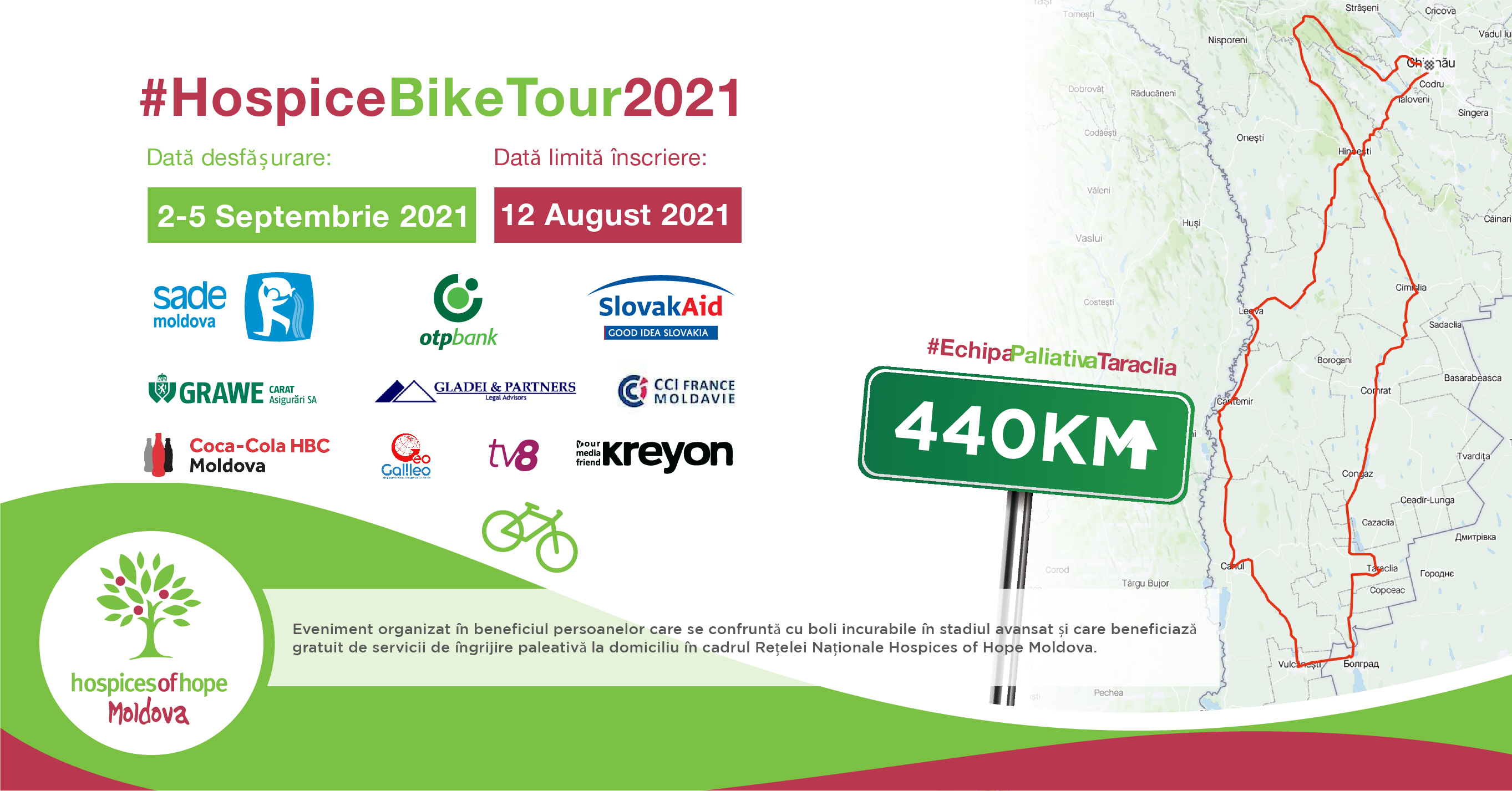 One month left until # HospiceBikeTour2021 - our bike adventure! We are proud of the participants who have already registered, with some we managed to get to know each other and even cover tens of kilometers in preparation for the September race.
Today, August 2, 2021, we launch the fundraising campaign, dedicated to children and adults suffering from incurable diseases with limited life prognosis. Together with the organizers and partners, 30 participants aimed to collect 500 euros each for the beneficiaries of Hospices of Hope Moldova, to provide about 30 palliative visits at home or 3-4 months of complex palliative care of a beneficiary .
Supporting a participant with 300 lei (or 15 euros), you ensure a visit to a patient, a day in his life with more care, love, attention and less pain. By supporting a participant with 1500 lei (or 75 euros), you ensure the minimum need for stomas for a month for a patient with colon cancer. Or, you can support a participant with 10,000 lei (or 500 euros) and become the sponsor of the event!
Donate here and indicate in the comment the participant you support.
https://uk.virginmoneygiving.com/fundraiser-portal/fundraiserPage?pageId=1284562.
The main purpose of # HospiceBikeTour2021 is to raise funds to support the development of free palliative care services within the National Hospices of Hope Moldova Network in the regions of Orhei, Soroca, Taraclia, Cahul and Ocnita.
Do you want to become a General Partner, Partner or Sponsor of a cyclist?
Do you want to cycle and thus help the 200 beneficiaries of Hospices of Hope Moldova?
Contact us at  +373 69 553031 or This email address is being protected from spambots. You need JavaScript enabled to view it..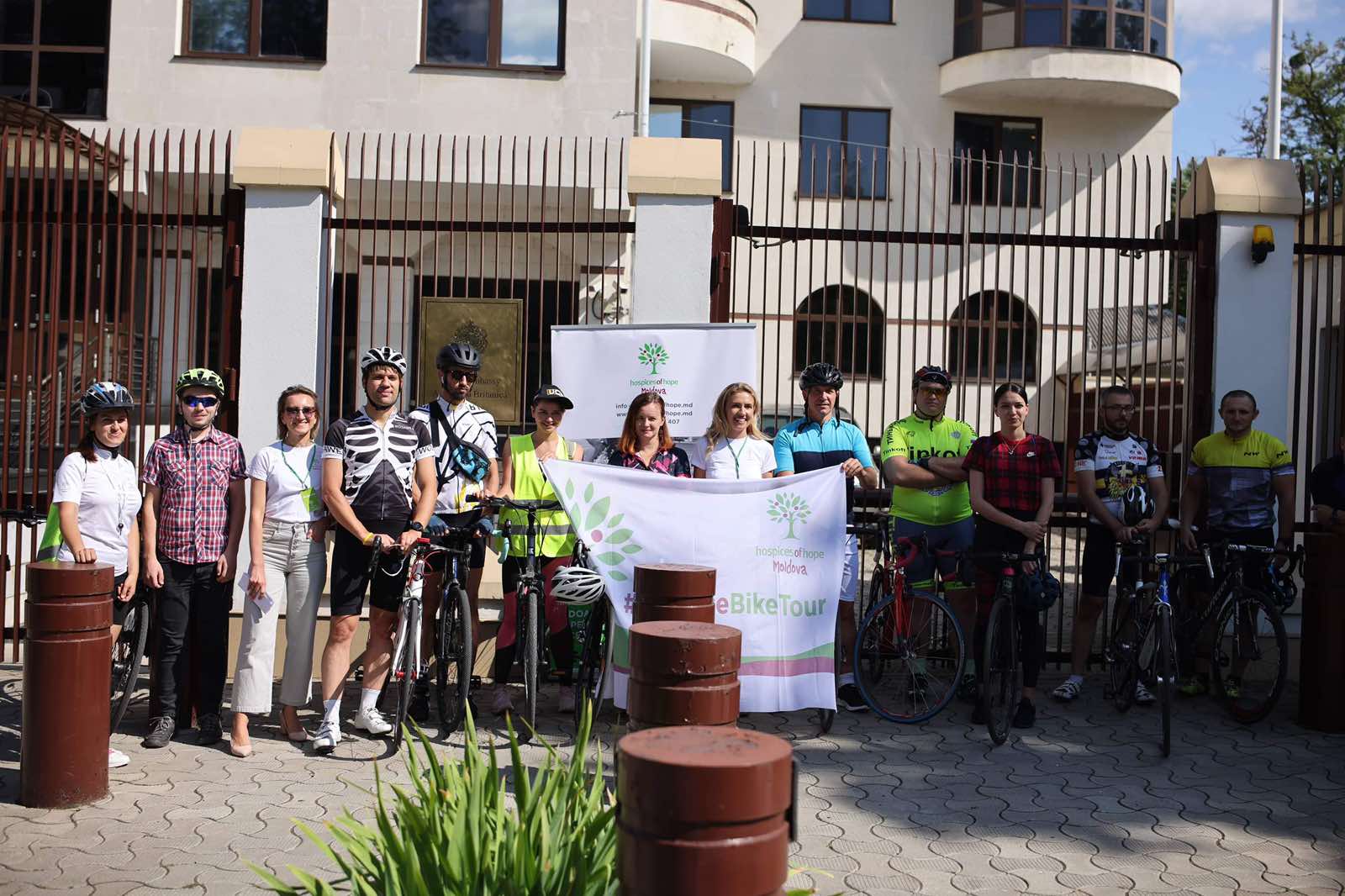 Today, July 22, we continued training for the sixth edition of #HospicesBikeTour 2021, an annual sporting event that brings cyclists together for a noble cause.
At this training, amateur cyclists registered in the race, supporters of Hospices of Hope Moldova, traveled about 40 km from the British Embassy in Chisinau to Lake Dănceni and back. H.E. Steven Fisher, Ambassador of Great Britain and Northern Ireland to the Republic of Moldova also participated in the race, got on the bike to support the beneficiaries of palliative care in the Republic of Moldova: "I hope this event will raise public awareness about the problems faced by people with incurable diseases. In fact, the event was in its sixth edition, and the main stage will take place in September this year. Since 2017, through its network, the organization Hospices of Hope, has supported almost 3,000 patients and families from several regions of the country. I am happy to contribute to the noble cause of the organization, by participating in today's event. It is very important for the whole of society to support people in need."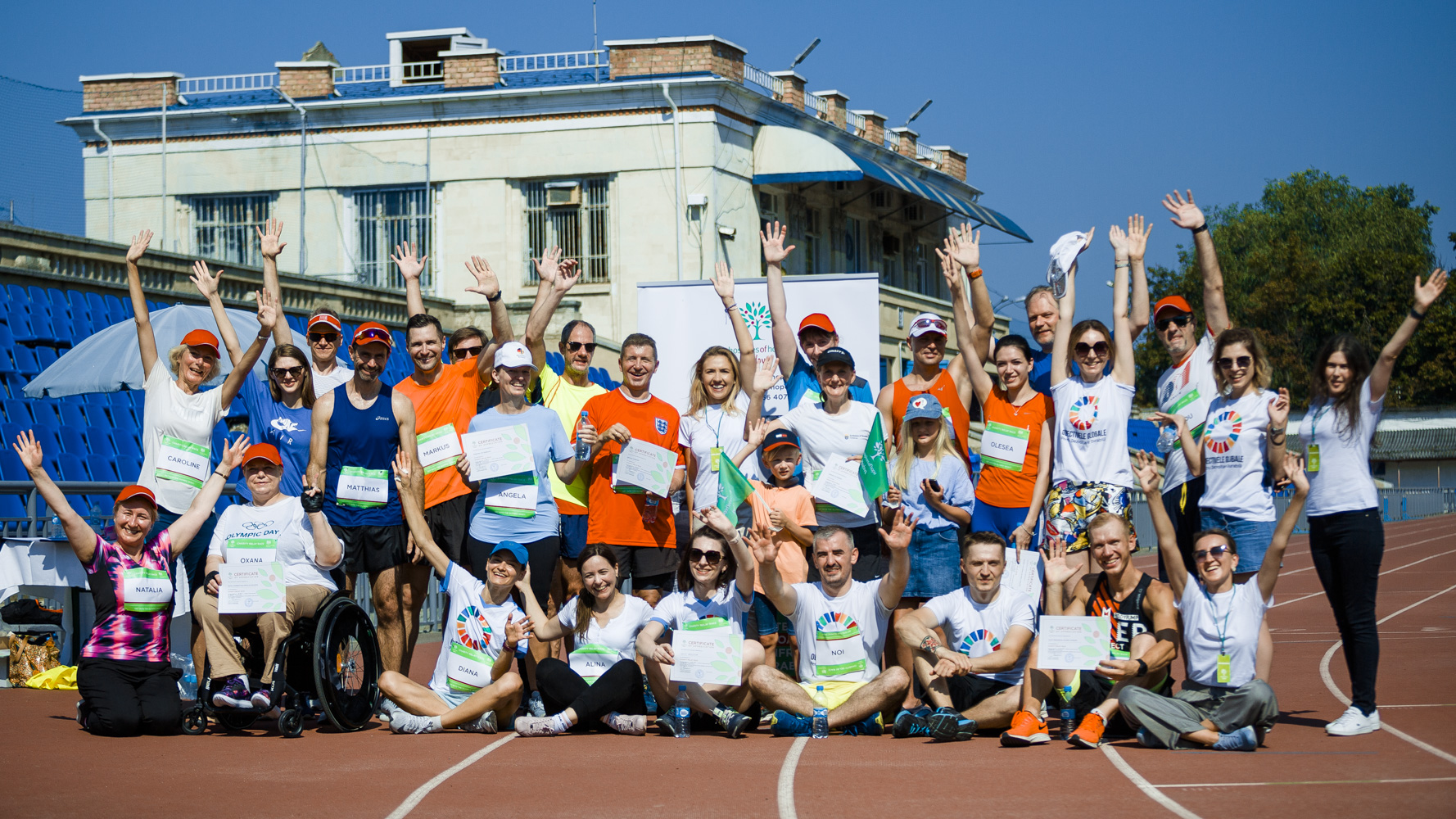 Today, July 18, at Dinamo Stadium took place Charity Relay Race - organized by Hospices of Hope Moldova in partnership with the British Embassy in Chisinau. The race brought together Olympic athletes and representatives of the diplomatic corps to support palliative care in Moldova. Among the participating embassies and organizations were: the British Embassy, ​​the Embassy of Germany, ​​the Embassy of Sweden, Swiss Cooperation Office in Moldova and UNDP Moldova.
Thus, H.E. Steven Fisher, the Ambassador of Great Britain mentioned "Hospices of Hope Moldova does a fantastic thing here in the country, helping an average of 200 Moldovans a month. Today's event brings the Olympic spirit to Moldova, just in time. I thank every diplomatic mission that participates in this race and the people who contribute to this noble cause."